Congratulations to Dennis Noll for the best Poster Award at ECIS2018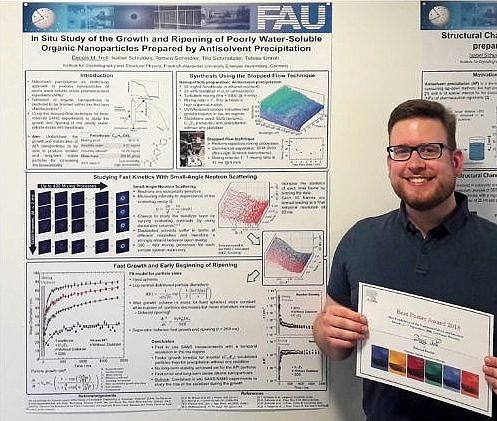 Congratulations to Dennis Noll for the best Poster Award at ECIS2018
Dennis Noll received the Elsevier "Best Poster Award 2018" at the 32nd conference of the European Colloid and Interface Society (ECIS2018) in Slovenia. At his poster, Dennis presented the use of the stopped-flow technique for small-angle neutron scattering (SANS) experiments to achieve temporal resolutions in the millisecond time range for the first time which enables in-situ studies of the fast growth kinetics of poorly water-soluble organic nanoparticles prepared by antisolvent precipitation. The experimental results nicely demonstrate how surfactants control the ripening process of the nanoparticles immediately after the nucleation.
Unfortunately, Dennis had to leave the conference just before the prize ceremony. Thus, Klaus Götz received the prize on behalf of Dennis (cf. http://www.ecis-web.eu/PosterPrizeLjubljana.htm).
Congratulations to Dennis for this nice piece of work and the deserved prize!
Poster "In Situ Study of the Growth and Ripening of Poorly Water-Soluble Organic Nanoparticles Prepared by Antisolvent Precipitation ", Dennis M. Noll, Isabel Schuldes, Torben Schindler, Tilo Schmutzler, and Tobias Unruh , Institute for Crystallography and Structural Physics, 32nd Conference of the European Colloid and Interface Society (http://ecis2018.fkkt.uni-lj.si/), 2 – 7 September 2018, Ljubljana, Slovenia