Student Excursion to FRM II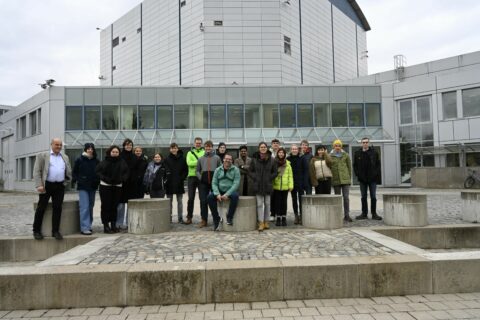 After 3 years of Corona lockdowns and social distancing, we could organize a student excursion again: the visit at the Research Neutron Source Heinz Maier-Leibnitz, FRM II, at TU Munich took place on February 1st, 2023 with Integrated Life Science and Physics students and some guests. The Unruh group intends to organize at least one student excursion to a large scale facility every year. The last excursion took place on 17 December 2019, just before the first Corona lockdown. It was really a great moment when we finally could start from LKS by bus at 9:30 am for a new excursion. It was a special pleasure that Prof. Chistopher van Eldik – dean of studies of the physics department – joined us on our exciting trip to FRM II. We arrived at TUM in Garching well before 12 o'clock. Thus, we had enough time for passport control and the first welcome by Bianca Tonin-Schebesta, who perfectly organized our whole stay at FRM II. The first highlight of our visit in Garching clearly was the introductory talk by Prof. Winfried Petry the former director of FRM II. His lively and entertaining presentation perfectly introduced us to the technical challenges of the mode of operation of the neutron source and the research instruments but in particular to cutting edge research with neutrons. After the talk, we started the visiting tour of FRM II. Our group was split into small visitor groups and "checked-in" to the neutron guide hall, the experimental hall, and the "visitors window", respectively. Scientists of FRM II guided the groups. They gave us a very close look at the many different large scale instruments which were built essentially for the study of the structure and dynamics of matter. The technical and instrumental aspects were complemented by impressive examples from medical, pharmaceutical, biological, chemical and physics research but also by materials science and industrial applications. From the "visitors window" we had an impressive view into the reactor hall with the reactor and the decay pool. In close contact to the FRM II scientist, the students could gain a detailed insight into the fascinating daily work on state-of-the-art research projects at a large scale facility. After the visiting tour we were invited by FRM II to a dinner with Leberkäs', Obazda, potato salad, beer, and other beverages in the Campus-Cneipe close to FRM II together with the FRM II scientists. At 7 pm we started our bus journey back to Erlangen where we safely arrived still before 9 pm.
We would like to thank the whole team of FRM II who made this excursion possible and the financial support of the FAU physics department.